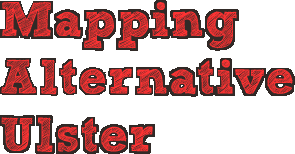 | | |
| --- | --- |
| The exhibition is now running in the Market Place Theatre and Arts Centre, Armagh, until January 2017. | |
Maps of Northern Ireland are often used to illustrate traditional political divisions, but they conceal a much more nuanced and interesting place. This landscape, rural and urban, is much more than a site of conflict.


This exhibition brings together diverse mapmakers: local historians, activists, artists, geographers and urban planners who interpret our surroundings in different ways. Mapping Alternative Ulster re-thinks our representation on maps.
Watch this space for events and future shows of Mapping Alternative Ulster.

If you manage an exhibition space and are interested in the show then please contact the curator; g.carr [at symbol] qub.ac.uk.
Webpage background: Detail from a hand-drawn map by Johnny McKeagney. For thirty years McKeagney charted the land, traditions and people around this hometown in Co. Fermanagh. Many of his maps have been published in a book, click here for more information.